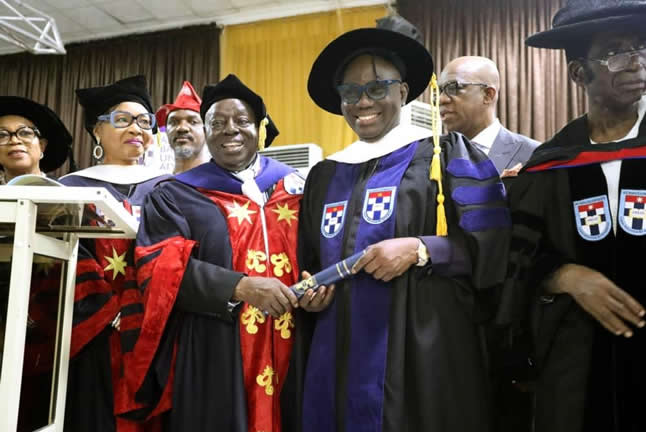 GEIL Chairman, Sultan, Obi & Tinubu Bag Honourary Doctorate
"Standing before you today is a genius of geniuses , a shy but talented man, a serial entrepreneur and multiple award winner". These were the words of the founder and Chancellor of Afe Babalola University Ado Ekiti ( ABUAD) Are Afe Babalola SAN CFR as he presented the scroll of the conferment of Doctor of Literature (D LIT) Honoris causa) on Chairman of Green Energy International Ltd Operator of Otakikpo Marginal Field in OML 11 Prof Anthony Adegbulugbe on 21 October 2019.
He was honored by the Africa's leading University alongside the Sultan Of Sokoto Alhaji Abubakar Saad and the Obi of Onitsha Igwe Nnaemeka Achebe Agbogidi and APC leader Asiwaju Bola Ahmed Tinubu , former Lagos state Governor.
He said Professor Adegbulugbe a former Presidential Adviser on Energy was being honored for his outstanding contribution to society and energy worldwide. Adegbulugbe was one of the experts recognized for their contribution to the UN Intergovernmental Panel on Climate Change ( IPCC) which won the 2007 Nobel Prize with former US Vice President Al Gore.
In the citation read it was stated that the recipient was born at Ibadan on the 2nd of April, 1955, Prof Anthony Adegbulugbe whose parents hails from Ondo town in Ondo state had his secondary education at Loyola College where he passed with Distinction.He then moved on to the University of Ife now OAU where he studied Electrical / Electronic Engineering and he graduated with B.sc (Hon) in Electrical Engineering (First Class) with a Grade Point Average (GPA) of 5.0 on a scale of 5.0 June 1976. For his postgraduate education, he attended the Massachusetts Institute of Technology (MIT), Cambridge, Mass: U.S.A. and obtained a D.SC. in Nuclear Materials Engineering, minor program in Energy Planning and Management in June 1981. Other courses attended include Electric System Expansion Planning Course, Brookhaven National Laboratory, U.S.A -1982,Energy Planning and Management Course, Brookhaven National Laboratory, U.S.A – 1983, and International Human Resources Development Corporation, Boston Massachusetts–International Gas Business Management Certificate Program, 2006 .
A man always seeking for creative solutions to Nigeria's challenges, Adegbulugbe was not satisfied as an academic professing theoretical solutions to the energy conundrum Nigeria found itself, so he sought for an opportunity where his ideas on climate change and zero gas flares in the oil and gas sector could be implemented.
Providence brought him an opportunity through the decision of the Federal Government to implement a pilot project of the World Bank propelled small scale gas utilization project, whereby Green Energy International Ltd, of which he was prime mover was granted the Operatorship of the Otakikpo field in OML 11, based in River state, to practically implement a zero gas flare field whereby all products in the value chain particularly gas will be utilized for gas to power and Liquified Petroleum Gas( LPG) otherwise known as cooking gas.
The field under 24 months was brought into production of 6000 barrels of oil per day,a feat which is a record in the industry. That small asset is becoming a reference point in marginal field operations with its recently approved 1million capacity onshore terminal, 40,000 barrels per day processing facility and 20km export pipeline, among other projects.
Other companies founded or cofounded by Adegbulugbe includes Tripple E system Associates ltd; Founder, Heptagon Ventures Ltd, All Grace Ltd etc
SERVICE IN THE LORDS VINEYARD After his service to the nation, Prof Adegbulugbe, for many years a part time Pastor of the CAC, engaged fully in the service of God as a Full time Pastor in the Christ Apostolic Church in Abuja at the District headquarters before his present posting as the Senior Pastor of the CAC All saints Chapel Citec Abuja.
Recently , Pastor Adegbulugbe was elevated to the position of District Superintendent to over see over 10 parishes of the Church. He sees his service to God as a his own thanksgiving for the amazing grace he has enjoyed from God Almighty. He has continued to use the pulpit as a platform to win souls for Christ through leadership by example and incisive sermons.
The occasion had in attendance the creme de la creme of the society from all parts of the world including the representatives of Directors, Management & staff of Green Energy, Lekoil,church leaders,friends of the recipient, and well wishers.